hi ladies and gents! Long time no see. It's been a lifetime since I updated this blog, and hopefully I'll call in more often.
In recent months, my passion for movies has been rekindled somewhat, and I have thoroughly enjoyed movies including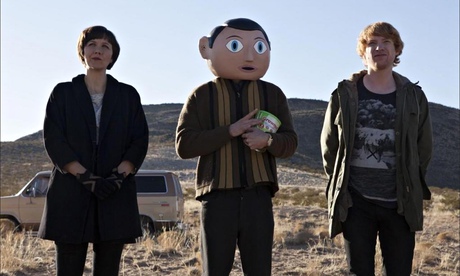 1. Frank:
A whimsical tale about the bit where music and madness meet. It has various hipster touchstones in it, like references to South By South West. Don't let that put you off. It's a funny but surprisingly sad tale of a band on the run in Ireland and then Texas, as a young man played by Domhnall Gleeson comes of age as their replacement keyboard player, with pretentions of power and youthful, ruthless ambition. The show is stolen by Michael Fassbender, who spends almost all of the movie behind a giant head mask with a permanently overjoyed expression on it. He plays the eccentric, deeply confused and fragile lead singer whose genius is curtailed by being bonkers. It's worth a watch, particularly if you've ever been young and in a band.
Llewyn Davis sure loves pussy
2. Inside Llewyn Davis:
continuing the music theme, Oscar Isaac, who is currently showing in The Two Faces Of January in (wow, symmetry) a tale of thwarted musical ambition, plays a folk singer in a burgeoning early 60s Grenwich Village folk scene, with contemporaries like Bob Dylan. It's a bittersweet tale as he tries to kick start his career, and the usual random, comedic yet strange touches by the Coen Brothers. Great supporting performances from Carey Mulligan, John Goodman and Justin Timberlake. Evokes early 60s New York beautifully as a place of crampt flats, dusty dark offices, and smoke filled nightclubs - it looks great, and the bittersweetness of watching the death of a romantic person's idealism coming up against reality is very moving.
3. The Double:
Richard Ayoade continues his excellent directing career with a step up professionally, with Jesse Eisenberg as the lead, a lonely, shy beta male character working in menal, low level office job. Until he discovers a man who looks exactly like him, but who exudes a massive level of charisma and personal charm - especially with the bosses and the ladies. Lots of complaints in reviews about how this is massively derivative of stuff like
Brazil
and other stuff, but just go and enjoy, it evokes this dark, claustrophobic world that is evocative of an imagined Eastern Bloc past, and just so compelling. It has an ambiguous,
Fight Club
style payoff, which almost had me shaking my fist at the screen, though.
4. Edge Of Tomorrow:
Went in with mixed expectations, after checking out the
Tomatometer
and discovering this is doing quite well critically.
Oblivion
, last year's offering by Tom Cruise, was a bit middling, and sci-fi, so that lowed my expectations, however, but this is surprisingly good. Tom Cruise plays a reluctant hero who is forced into the frontline of a major battle on edge of mainland Europe, where an alien army is quickly colonising Earth and crushing everything in it's path. After becoming contaminated with a liquid from one of the Alien-like aliens, he repeats each day, meeting supersolidier Emily Blunt, who enlists him to work out how to defeat the enemy. It's been said it has elements of
Halo
,
Aliens
,
Groundhog Day
and
Source Code
, amongst others, but it puts them together in a compelling way. The shots of a militarised London, and decaying Paris are truly impressive and believable. Blunt looks more beautiful than ever, playing a Ripley/Sarah Connor style ass kicker. The chemistry is vintage Cruise, he's on fine form. It's a movie that looks like a shallow summer blockbuster, but actually has a certain amount of hidden depth.
That's all I've got time for right now. Other movies I thoroughly enjoyed in recent months were
Wolf Of Wall Street
(3.5/5),
The Hunt
(4/5),
Blue Ruin
(4/5),
Dallas Buyers Club
(4/5), H
er
(4/5) and
The Grand Budapest Hotel
(3.5/5). I suggest you check them all out, and maybe I'll without waiting 2 years next before next time.....